Naughty or Nice, six sexy holiday short stories from Jodi Ellen Malpas, Corinne Michaels and more, is now available for FREE!
✮ ✮ ✮FREEBIE ALERT! ✮ ✮ ✮
Broke and exhausted from Black Friday shopping?  We're here to help!
All new FREE HOLIDAY STORIES from some of your favorite authors!
Check out sexy and fun standalone holiday themed shorts from Corinne Michaels, Jodi Ellen Malpas, Vi Keeland and Penelope Ward, Marie Force, Emma Chase & Susan Stoker!
It's only available for a LIMITED TIME, so hurry! 
BookHip.com/QGCKHV
Holy cow! Check out this link. You can grab a ton of great romances for 99 cents each. Sweet, right? Today is the last day of the sale!
Check the books out here. Too many to list!
Uncharted
By Claudia Burgoa
$0.99
**Free On Kindle Unlimited!**
Ten years after I lost track of Pria, I find her, hiding under an assumed name. Our mutual desire is as raw and uncomplicated as ever. It's too easy to strike a deal. No commitment, no promises. But I'm dangerously tempted to risk exposing my heart once more—with feeling… 
Read More
Lake Loveless
By Addison Moore
$0.99
Spend the summer at Lake Loveless, where true love blooms under a midnight moon. Three books! Steamy, suspenseful, heart-wrenchingly beautiful! Nobody believes that Ace and Reese can last. She's a debutante, and he's far from any societal rung. Summer is quickly coming to an end, and both Ace and Reese wonder if they are too… 
Read More
Made of Steel
By Ivy Smoak
Free
It's been ten years since I've seen him, my childhood crush…the perfect man. So you can imagine my surprise when I arrived for freshman orientation and found out that I'd be living on the same hall as him. There's only one problem: I'm in witness protection. And if I talk to him, I could get us both killed…
Read More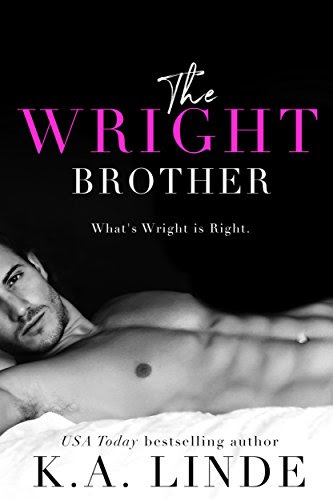 The Wright Brother
By K.A. Linde
Free
A USA Today bestseller with nearly 1,400 five-star ratings on Goodreads: Emery is falling for billionaire CEO Jensen Wright… but she has a history with his brother! "Full of wealthy rugged men, drama galore, and lots of rip-roaring sex" (USA Today bestselling author Jillian Dodd)…
Read More
Contemporary / Holiday Romance
Getting Naughty…and Nice: Naughty and Nice in Sapphire Falls

By Erin Nicholas
Published: November 2018
Was $.99
For a Limited Time FREE
December has never been hotter!
This collection includes:
Getting In the Spirit, a Christmas novella
Getting Frisky, a New Year's Eve short story
Getting In the Mood, a Valentine's Day novella
Paranormal Romance
How to Date Your Dragon
By Molly Harper
Publisher: NYLA
Published: July 2018
Was $4.99
For a Limited Time $.99
The first book in Molly Harper's uproariously funny, sinfully sexy new Mystic Bayou series!

Tempting (Inked Hearts Book 1)
By Crystal Kaswell$0.99
**Free On Kindle Unlimited!**
He's my best friend's brother. He's off limits. But once I find the brooding tattoo artist's sketchbook full of dirty drawings–drawings of me–I can't resist…
Read More
A Fighting Chance (Bridge to Abingdon Book 2)
By Tatum West
$0.99
**Free On Kindle Unlimited!**
Jack shouldn't want anything to do with me. He shouldn't forgive me when I act like a jerk. And he should definitely run for the hills when I'm slapped with custody of my sister's three kids. But he doesn't run. Jack Chance is a man who stays. It's only when he's gone that I realize I was never done with love. I was just waiting for Jack…
Read More

Gift For the Boss (Managing the Bosses Book 3.5)
By Lexy Timms
$0.99
How adorable can new love be when you have the perfect Boss and boyfriend? Jamie Connors has settled into the life of Senior Advisor and boyfriend to extremely handsome and sexy billionaire Alex Reid. Having just moved upstairs from her suite into his mansion home, she's adjusting to the new life and incredibly happy for the first time in a long time. She can't stop feeling the holiday spirit…
Read More
Chase (Savage Kings MC Book 1)
By Lane Hart and D. B. West
$0.99
**Free On Kindle Unlimited!**
After ten years, outlaw biker Chase Fury is determined to get Sasha back in his life and his bed because she never left his heart or his soul…
Read More
Take A Chance On Me
By Weston Parker
$0.99
**Free On Kindle Unlimited!**
Not all alpha males are assholes. But the guy that messed up Tiffany's self-image sure as hell was. She has no idea how gorgeous, powerful, and intelligent she is. But that ruse is up. I'll make sure of it… 
Read More
The Beast's Baby
By N. Alleman
$0.99
**Free On Kindle Unlimited!**
Drama. Romance. And a sexy alpha male who knows what he wants. Axel leaves home to find fame in the boxing ring, clueless of the fact that when he took Olive's virginity, he also gave her a precious gift to remember him by. But once he discovers what he's lost, he will fight to win back his family…
Read More
Making the Rules
By Ali Parker
Free
After having his hand slapped and career almost ruined several years back for falling for a student, Dr. Kendal Tarrington is done with love. Too bad she's not at all aware of his rules…
Read More