Fantasy & Paranormal Romance
Call of Magic
By Tia Didmon and Other Authors
Only $.99
When power beckons, let the call of magic charm you! This bargain collection of paranormal romance and fantasy stories will cast a spell on you this Halloween. Over 1500 pages of magic and curses haunting the worlds of the witches, shifters, vampires, and the hunters who stalk them in the night. Get ready to be bewitched.
Paranormal Romance
Shifters Eden
By Tia Didmon
Only $.99
Paranormal Romance
Valentino's Kiss
By Tia Didmon
Only $.99
STEAMY CONTEMPORARY ROMANCE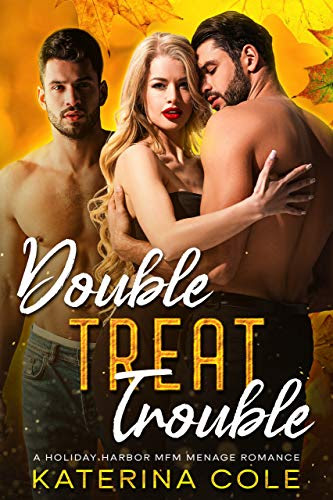 $0.99
Double Treat Trouble
by Katerina Cole
I thought I had to face my fears alone, until I met them. With no job, and nowhere to live I was cursed for sure. Dex and Wolf are ready to slay all my demons. And make me theirs in the process. They want to protect and shield me from my bad dreams. I have to be willing to give in to my wildest fantasies. Two men meant only for me, it had to be a naughty trick…


**Free On Kindle Unlimited!**
Kindle
Doctor's Little: ABDL MM Halloween Romance (Broken Littles Book 2)
$2.99 to buy also in Kindle Unlimited
Claude
He's Mr. I'm-your-perfect-love.
A doctor, a different kind of Daddy, looking for a guy much younger to be his sugar.
I'm going to be his little sugar, and he'll care and pamper me.
My provider until I finish my college degree and he needs someone else.
But I'm hoping I can change his mind. I'm a Little too, even if I lied at the start.
He slips a paci in my mouth, tells me a bedtime story, and kisses me tenderly.
Lawrence is perfect, but something's troubling him. I need to find out what it is.
And then… Well, I wouldn't be opposed to marrying him.
Lawrence
He's the cutest thing when I met him. Claude… I could never forget him.
Being my sugar means that dating me comes with hundreds of perks.
I pamper him, pay for his college, and give him fancy gifts he dreams about.
I'm a different kind of Daddy, and he's the Little I'd been looking for.
When he coos in my arms and says that he needs my love, I give him just that.
I snuggle him under the covers and pick up a story he'll love.
I think it's the right time. I'll ask for his hand and I know he'll say yes. My life depends on it.
Picking up from Rockstar's Little, Doctor's Little is an ABDL romance that deeply dives into gay age play, domination, submission, and age gap dynamics. With liberal doses of Halloween-themed scenes, this MM romance story is perfect to be read any time of the day. No cheating, cliffhangers, and a guaranteed HEA to melt your heart.
Halloween with the Guy Next Door: A Small Town Spooky Romance (Holiday Romance in Snowflake Falls Book 8)
Caitlin
I've come to Snowflake Falls to escape my ex.
This cozy small town is the opposite of the big city.
But the guy next door is a tall, dark mystery.
A hot-as-hell puzzle that has me moaning in my sleep.
But is he as scary as he seems?
Athan
I've lived here a long time.
People in town don't know what to make of me.
When Caitlin moves in next door she captivates me.
I want her by my side forever.
But my secrets are not for the faint-hearted.
This is a standalone story, but keep an eye out for recurring characters and families. Steamy, spooky insta-love short romance featuring some scares, ghosts, pumpkins, Snowflake Falls regulars and a happy-ever-after ending.
One Haunted Evening (Haunted Regency Series Book 1)
Six gentlemen head to the Lake District, after one of them inherits a haunted castle, with the purpose of hosting a Samhain masquerade party. After a local girl goes missing, they find themselves immersed in witchcraft and one ghostly tale after another as a number of them stumble upon their true loves amongst the backdrop of one very haunted castle.
Available free on Amazon
A Sleepy Hollow Kiss: A Sweet and Spooky Halloween Romance (Snowdrop Valley Series Book 2)
.99 at Amazon
Everybody's getting ready for Halloween in Snowdrop Valley, especially the College of Literary Arts, where horror literature is taken very seriously. Pay a visit to the sleepy little book town where coffee shops serve hot caramel apple cider, bookstores display chilling horror reads, and BnBs turn front porches into cornucopia wonderlands.
Headstrong Lane Sharp survived a traumatic childhood event lost in the woods over Halloween week during the Salem Witch Festival. Only to find herself still shaking ghosts as an adult, she is determined to never be alone, even if it means keeping her brother out of a special school in Boston. When her boss at the college demands she host gothic literature week for visiting students. Lane becomes saddled with a literary consultant to help her design the event and create new horror curriculum despite her pet peeve for the genre. What she wasn't prepared for was an irresistible know-it-all with an adorable twang and lonely little girl to turn her life upside down.
For Southern Georgia boy and horror expert Miles Hall, the offer for a consulting gig in a famous book town was too good to pass up. He heard all about how their homely women book-loving types were happy to start a family, and a family is exactly what he needed for his motherless daughter. Burned by his first love, he vowed never to open his heart again. A platonic relationship and small community life were all that he required. But when he arrived in Snowdrop Valley, he didn't expect a stubborn and beautiful blond with a sassy mouth and old fears to unlock his frozen heart.
An enchanting holiday romance that pulls readers into the nostalgic clutches of a forgotten holiday. A Sleepy Hollow Kiss will make you want to light candles, turn out the lights, and cozy up with a warm blanket and bowl of candy corn as a fresh take on Halloween, where books override ghouls and old fears disappear in the arms of sweet new love. Ideal fiction reading for fans of sweet and clean contemporary romance authors such as Debbie Macomber, Sheila Roberts, Holly Martin, Tilly Tennant, and Debbie Mason.
The Snowdrop Valley Series:
My Christmas Darling
A Sleepy Hollow Kiss
Wedding at Walden Pond
Once Upon a Thanksgiving
Dreams of Mistletoe
Tricks, Treats, & Teasers: A Halloween and Paranormal Romance Collection
Trick or Treat?
Give me something hot to read…
Halloween. A time when ghost and goblins come out to play.
Let these devilish authors tempt you into a wicked good time as they take you on a journey where tricks are a given, there is always a treat in store and the teasing is hotter than you can imagine.

Featuring:
Alexi Ferreira "A Midnight Revelation"
C. J. Corbin "Love is a Spell"
Claire Davon "Samhain Surprise"
Cynthia Diamond "Hallowed Promise"
Ember-Raine Winters "A Halfling Halloween"
Jenn D. Young "Inked Dreams"
Joy Eileen "Matchmaking Ghost"
Naomi Springthorp "69 Johnson Lane"
Rayne Elizabeth "Learning to Exhale"
Tessa McFionn "Care to Dance?"
TL Mayhew "First Shift"
Tonya Clark "Hidden Sounds"
Victoria J. Hyla "Resonance"
Moonlight and Belladonna: A Small Town Halloween Romance (A Hartwood Holiday Romance
Will a high school music teacher and an indie rock star find their harmony in this small town holiday romance?
Belladonna Pagano is far too busy for love—she has until Halloween to wow the school board with Hartwood High's Fall production of Little Shop of Horrors, or she'll be out of a job. Besides, after her former fiancé traded their future for his burgeoning music career, she's vowed never to give a man that kind of power over her again. Least of all a rock star.
On the outside, Cade Owens, sexy frontman for indie rock chart topper, Burning Umbrage, has it all. But he can't outrun the ghosts from his past. When he's forced to return to the small town holding his darkest memories to bury someone he loves, Cade makes a desperate, rock bottom choice.
A rash decision that leads him crashing headlong into a fiery woman in the woods.
And a choice that ultimately results in court-ordered community service . . . with her.
Bella and Cade risk their careers and their hearts in this musical, bewitching tale of love and redemption.
Available at Amazon
Halloween Boo (Holiday Hunks Book 1)
Available at Amazon for .99 and Kindle Unlimited
A ghost falling in love with a mortal? It's just a bunch of hocus pocus…

Dani
So, I think my apartment is haunted.
No. Really.
Spooky things have been happening to me ever since I moved in last year. At first, I ignored them. Later, I got used to the idea that I shared my place with a ghost. I even called him Casper. We got along just fine.
Until a sexy hunk showed up the night before Halloween and told me that his name wasn't Casper—it was Zack. And that, on All Hallow's Eve, certain ghosts sometimes have the power to cross over into the human world. Which he did, because he loves me.
Okay then.

Zack
I'm in love.
The only problem?
She's alive. And me?
I'm kinda not.
At least, I'm not on every day except for October 31st. Because on Halloween? Anything goes.
I want Dani. And even if it's only for the one night when ghosts can cross over to the living world, I'll take what I can get. Because I love a mortal, and it's not just hocus pocus.
Danielle Williams doesn't believe in ghosts. But this Halloween, after a year of watching over and falling in love with his mortal houseguest, Zack Banks is ready to prove that this particular ghost might just believe in her.
Halloween Boo is the first novella in the Holiday Hunks series. This steamy Halloween treat is chock full of paranormal romance, insta-love, over-the-top Halloween magic, and enough Hocus Pocus nods to make you cackle like a sexy witch in between moaning for more. A Sarah Spade HEA guaranteed!
Her Fated Vampire: A Vampire Romance Short Halloween Story
There's no such thing as real vampires…right?
Carly Henderson thought attending a posh party at the home of her best friend's boss would be the same boring Halloween it had been for several years past. The last thing she expects is to spend a steamy night in an old crumbling castle. Apparently, though, things are not always as they appear, and it's going to be a night she will never forget.
Dominic Milani just made partner in his father's big law firm. To celebrate, he throws an elaborate Halloween party. Drawn inexplicably to the buxom brunette in the vampire costume, Nick may be in for more than he bargained for when he propositions her with the justification of 'just one night.'
Will Carly accept his secrets when Nick proves true that some things are not always as they seem, or is Nick destined to lose his fated mate?
Available at Amazon