.99 cents
The Berserker Brides Saga (Berserker Romance Saga Book 2)
by Lee Savino
For centuries we've searched for the woman who can break the Berserker curse. And when we find her, we will never let her go. In this paranormal romance boxset: 7 books, 1 novella, and countless huge, dominant warriors who will stop at nothing to claim their mates.
**Free On Kindle Unlimited!**
.99 cents
Rogue (Paradise Shores Book 1)
by Olivia Hayle
Hayden Cole was good times dressed like bad news. My brother's best friend, the boy from the wrong side of the tracks—everything I should stay away from. We loved in secret until he left town without a word and broke my heart. Ten years later, he's back from the Navy and demanding a second chance, and he won't let anything stop him this time.
**Free On Kindle Unlimited!**
$0.99
To Sir (The K Club Book 2)
by Rachell Nichole
When Liz is plagued by the idea for a kinky novel she can't shake, she plunges head-first into a genre she vowed never to pursue. Chase has no idea what to expect from a meeting with an author doing research on the BDSM scene, but he never expected LIZ. When she begs for his help, he only has one rule: they will do this his way, or not at all.
**Free On Kindle Unlimited!**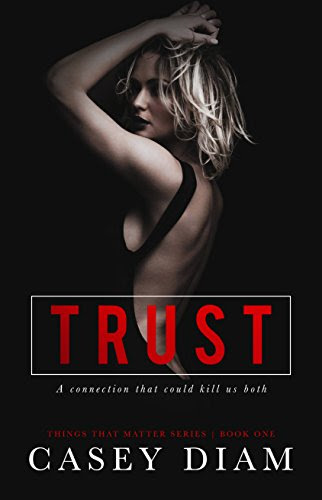 Free
Trust (Things That Matter Series Book 1)
by Casey Diam
A romance entwined with heart-stopping action and dangerous desires. When Paige runs into Caleb, her past collides with her present, and essentially, the people who had assassinated her family. In a decision that could mean life or death, she has two options: keep running, or trust Caleb, the man who's a bigger part of the puzzle than she realizes.
$0.99
Breaking Spade (Dead Presidents MC Book 6)
by Harley Stone
One night of passion is all the busy Spade and cautious Jessica can promise each other, but will it be enough? Will their chemistry drive them together against all odds?

Afterlife by Joey W. Hill is FREE for a limited time only!
Don't miss this steal of a deal! Download your copy today!
Amazon: https://amzn.to/3bRaHyx
Apple Books: https://apple.co/2YlAwmo
Amazon Worldwide: http://mybook.to/afterlifejh
Nook: https://bit.ly/3aQECpi  (Use code: BNPJOEY100)
Kobo: https://bit.ly/35hrSXK
Rachel gave up seeking a Master years ago. After a failed marriage and terrible tragedy, she's walled her soul against going down that dangerous path again. Then Jon joins her yoga class. He's thirteen years younger than she, but his Dominant nature threatens her shields from the moment she recognizes it. Not only does he understand what her body wants—he knows what her soul craves.
Part of the five-man executive team of Kensington & Associates, Jon uses his calm, philosophical nature to defuse volatile acquisition negotiations. He can compel opponents to willingly surrender when he draws the sword that closes the deal. As a sexual Dominant, he employs that same expertise. A spiritually driven Master who enjoys connecting with a woman's soul, he wins her utter submission with his skills. But with Rachel, it goes beyond that. She's the submissive his own soul has always hungered to have, and he won't hesitate to use his talents, as well as that of the other four K&A men, to claim her.

Further to Fall by Catherine Cowles is FREE for a limited time only!
Amazon: https://amzn.to/3b2eisr
Apple Books: https://apple.co/2M1lhd0
Amazon Worldwide: http://mybook.to/furtherfallcc
Nook: http://bit.ly/2GO9gU7
Kobo: http://bit.ly/2YqBWxc
Google Play: https://bit.ly/2yv6hiz
An MMA fighter trying to take on the world. A teacher trying to make the world a better place. A friendship neither expected.
Until one night, one mistake tore them apart.
Losing her almost broke him. But he climbed his way out of the darkness and now he's back and determined to battle for his girl.
But, from the sidelines, someone watches. Someone who'll do just about anything to keep them apart.
Their second chance might be over before it even begins…

Slaughter by Shantel Tessier is ON SALE for a limited time only!
★  ★  ★  HOT 99¢ SALE ALERT  ★  ★  ★
My name is Avery Decker, and my story isn't for the faint of heart.
Slaughter, a "dark and twisted" standalone from Shantel Tessier is ON SALE now for only 99¢!
Don't miss out! Grab your copy today!
Amazon: https://amzn.to/35m8Lf8
Amazon Worldwide: http://mybook.to/Slaughterst
My name is Avery Decker, and my story isn't for the faint of heart. It is about revenge and hatred, misery and violence. I wasn't always this way even though it was in my blood. I grew up happy and in love with my best friend until she betrayed me and walked away. After that, I fell into the deep, dark world I was meant for.
Presleigh Clarke's actions turned me into the ruthless man I am today. Too bad for her, I believe people should pay for the things they have done. The more painful and messy, the better. I get off on making people bleed. It feeds my inner demon, and right now, he is starving. She crossed me once, so now she'll know what it's like to fear me. But not all stories end the way you think they will … mine certainly didn't.
NOW LIVE + GIVEAWAY!!! Deep Wood: A Mountain Daddy Romance by Margot Scott is only 99c + FREE in Kindle Unlimited!!!
"deliciously hot with a side of drama, a splash of angst and a sprinkle of suspense" – OMG Reads
"Super sexy mountain man! This was a quick, fantastic and absolutely sexy story!" – Goodreads reviewer
US: https://amzn.to/3cMdFVf
UK: https://amzn.to/2Kw1fVn
CA: https://amzn.to/3cMjhio
AU: https://amzn.to/3eMPOGJ
Enter to win a $10 Amazon gift card + an ecopy of Down Under ➩ https://bit.ly/2WCsvXN
She's mine to claim. Mine to protect. Mine to care for.
I swore I'd never go back to that mountain, not after my childhood friend and I fell out years ago. So imagine my shock when I find out he's died and left me his old hunting cabin.
On the way there, I find myself staring down the barrel of a pistol without a safety, in the form of smooth thighs, arresting green eyes, and curves that could charm a sapling into a mighty oak.
But it turns out my old buddy's gone and thrown me another curveball: the nymph with the ass that won't quit? That's his eighteen-year-old little girl. She's running from something, but I'm not about to let anyone lay a finger on this green-eyed angel.
I'll put my life on the line to keep her safe, because that's what good Daddies do.
** ** ** ** **
Author's note: I've wanted to write a mountain-man romance for what feels like FOREVER! There's just something about a rugged, brooding loner with a big axe that makes you want to curl up by a roaring fire. Enter, Silas Walker! He's a little grumpy and a lot stubborn, but once this mountain Daddy gets his hands on his baby girl, he's never letting her go.
Please be aware that this book contains suspense elements and discussions of past physical abuse. But don't let that heavy stuff fool you, this romance is fast and filthy, with no cheating or cliffhangers, and features a guaranteed HEA!